ICAgile Certified Professional - Coaching Agile Transitions Training
Register Now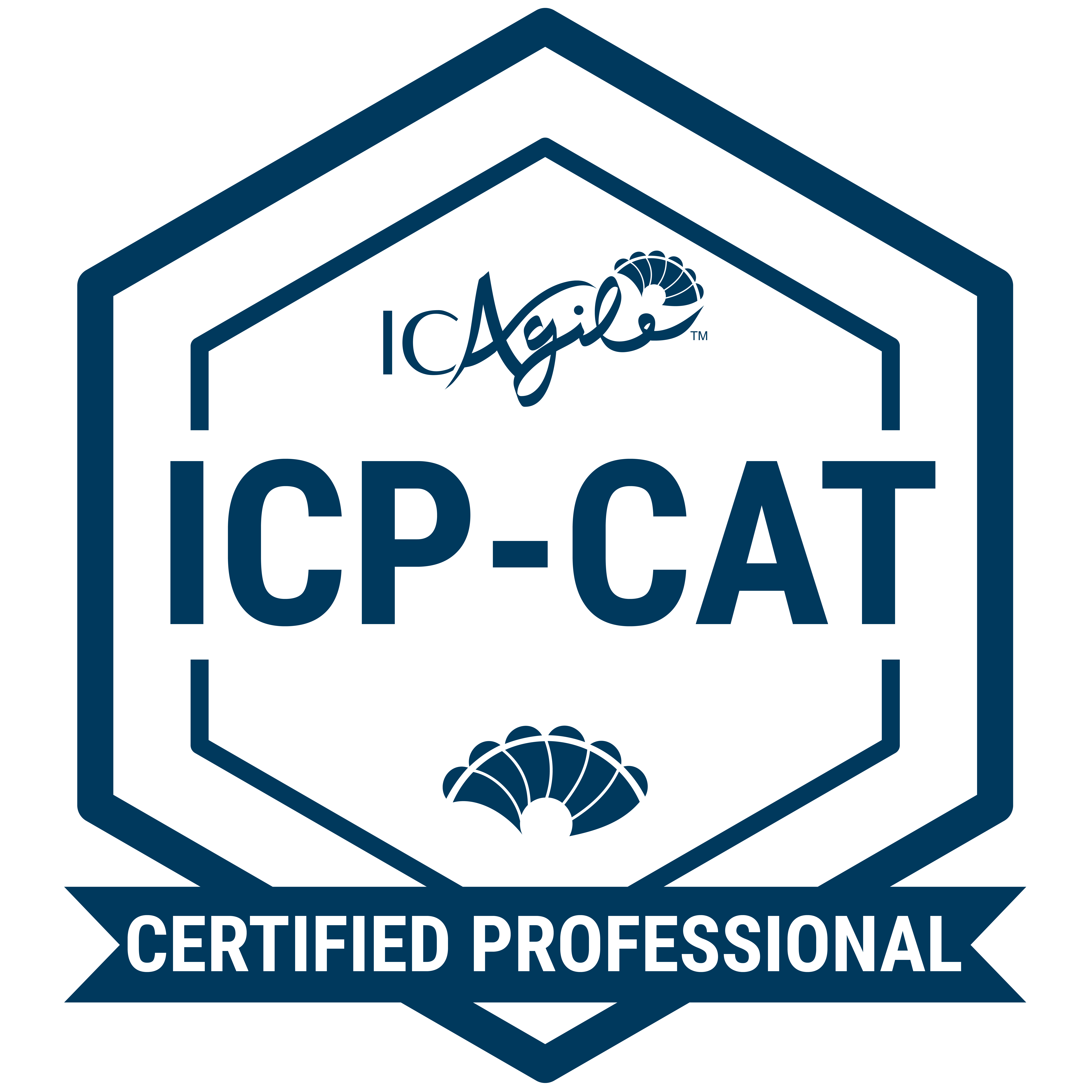 ICAgile Certified Professional - Coaching Agile Transitions
ICAgile Certified Professional in Coaching Agile Transitions (ICP-CAT) workshop, Case Study based, Change Management models, no-PPT, Enterprise Agile coaching certification is a 2 days classroom training by ICAgile Authorized Instructor, 16 PDUs & SEUs, Certificate and Life long membership.
Select Training
Next Month
Weekdays
Weekend
Morning
Afternoon
Clear Filter
Training Details
Date and Time
20th Aug - 21st Aug, 2022
02:00 PM - 10:00 PM IST
Trainer
Vivek
Type
Online
Schedule
Daily
What do you get out of this course?
Coaching Agile Transitions (ICP-CAT) is one of the top most certificate for Enterprise Agile Coaches in the IT industry. It's a certificate awarded to Enterprise Agile coaches for their understanding in Enterprise Agile Coaching Concepts, Change Management, Creating Change Strategy, Assessing the Organizations, Groups Facilitation Techniques, Human change process and much more.
What is ICP-CAT
The ICP-CAT is the second of two knowledge-based certifications on the Enterprise Coaching for Agility Track. This certification focuses on the field of Enterprise Coaching for Agility, explores the core elements of an agile transformation, and links the core enterprise coaching competencies in a way that empowers coaches to act as agents of change in organizations.
The Learning Outcomes also delve into the pursuit of professional mastery and the ethical considerations of Enterprise Coaching for Agility. They then look at elements central to agile transitions such as organizational and human change processes, transformation strategies, addressing organizational impediments, and communicating, educating, and facilitating at an organizational level.
Who provides ICP-CAT certificate?
ICAgile Certified Professional in Coaching Agile Transitions (ICP-CAT) is a certification program offered by International Consortium for Agile (ICAgile). International Consortium for Agile (ICAgile) is a community-driven organization that consists of pioneers, experts, and trusted advisors. ICAgile is not just another certification body.
What is the recognition for ICP-CAT certificate in the Industry?
ICAgile Certified Enterprise Agile Coaching (ICPCAT) is one among the top recognized Enterprise Agile Coaching certifications. The course curriculum is designed by Lyssa Adkins, Pete Behrens, Michael Spayd and Marsha Acker. It is the most preferred certificate in the industry in terms of Enterprise Agile Coaching. Having a Certified Enterprise Agile Coaching certification increases the chances of you landing on a job related to Enterprise Agile Coaching, Change Management, Change Catalyst, Change Agent and so on.
What is the test structure of ICP-CAT?
ICAgile does not have exams as such but they rely on the trainers for validating the participant's learning. Leanpitch has subjective assessments which includes creating a Change Strategy for coaching enterprises to assess the participant's knowledge.
What is the eligibility to take ICP-CAT Certification?
Participants should hold an (ICP-ACC) ICAgile Certified Professional in Agile Coaching certification from ICAgile.
Participants should have at least 12 months of work experience as an Agile Coach at a team or a Program Level.
Participants can take up the ICP-CAT course right after completing the ICP-ACC certification course.
What is the validity of ICP-CAT Certificate?
ICPCAT certification is valid for life from the date of attaining the certificate. ICAgile certificates have lifelong validity and never have to be renewed again.