Advanced Certified Scrum Product Owner Training
Register Now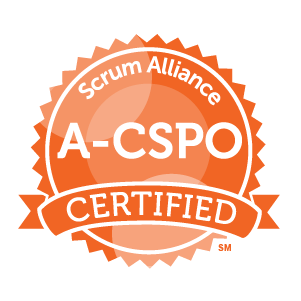 Advanced Certified Scrum Product Owner
Advanced Certified Scrum Product Owner (A-CSPO) is an instructor-led course from Scrum Alliance to up your Product Management skills to the next level
Select Training
Next Month
Weekdays
Weekend
Morning
Afternoon
Clear Filter
Training Details
Date and Time
26th Jul - 28th Jul, 2022
02:00 PM - 07:00 PM IST
Trainer
Satisha
Type
Online
Schedule
Daily
What is A-CSPO
This course helps you to build enhanced implementation skills on the foundation level skills learnt in CSPO workshop. It's a certificate program awarded to Certified Scrum Product Owner from Scrum Alliance.
Who provides A-CSPO certificate?
Advanced Certified Scrum Product Owner (A-CSPO) is a certification program offered by Scrum Alliance for aspiring Scrum Masters. Scrum Alliance is a non-profit organization based out of Colorado, the USA which provides education, educational resources and as well as support to Agile and Scrum Practitioners. Learn more about Scrum Alliance.
How well is Product Owner certificate is recognized in the market?
With the advent of artificial intelligence and machine learning and growing consumerism, the product management has taken the center stage all over the world. Be it in big Fortune 500 companies or in Startups, the need for good product management is increasing year by year. Certified Scrum Product Owner role is a stepping stone to get started in Product Management. Listen to what one of the experience Product Managers who had attended our CSPO workshop has to say about the trends:
With many companies realizing the need of Product Owner for their product management, there is an increasing number of people getting certified as CSPO. The below chart shows how the number of people getting CSPO certificate is increasing year by year.
The Scrum Alliance is the oldest certification body in the Agile space and has been helping people learn and build great products since more than 2 decades. The Scrum Alliance was started by co-authors of Scrum - Jeff Sutherland and Ken Schwaber.
What is the eligibility to take A-CSPO Certification?
Participants should hold an active Certified Scrum Product Owner (CSPO) certification with Scrum Alliance
Participants should have at least 12 months of work experience specific to the role of Product Owner (within the past five years)
What is the validity of A-CSPO Certificate?
A-CSPO certification is valid for 2 years from the date of attaining the certificate. Scrum Alliance will send you a reminder once the validity of your certificate is about to expire. You need to renew your certification by paying 100$ and 20 SEUs. SEUs are Scrum Education Units and 1 hour of learning is equal to 1 SEU.
There are different ways and means of gaining SEUs.