Advanced Certified Scrum Product Owner Training
Register Now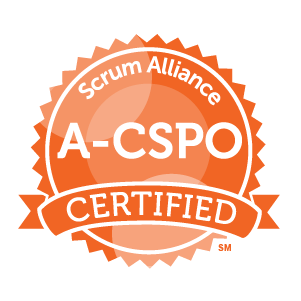 Advanced Certified Scrum Product Owner
Advanced Certified Scrum Product Owner (A-CSPO) is an instructor-led course from Scrum Alliance to up your Product Management skills to the next level
Select Training
Next Month
Weekdays
Weekend
Morning
Afternoon
Clear Filter
Training Details
Date and Time
16th Aug - 18th Aug, 2022
02:00 PM - 07:00 PM IST
Trainer
Satisha
Type
Online
Schedule
Daily
Date and Time
20th Sep - 22nd Sep, 2022
02:00 PM - 07:00 PM IST
Trainer
Satisha
Type
Online
Schedule
Daily
What is A-CSPO
This course helps you to build enhanced implementation skills on the foundation level skills learnt in CSPO workshop. It's a certificate program awarded to Certified Scrum Product Owner from Scrum Alliance.
Who provides A-CSPO certificate?
Advanced Certified Scrum Product Owner (A-CSPO) is a certification program offered by Scrum Alliance for aspiring Scrum Masters. Scrum Alliance is a non-profit organization based out of Colorado, the USA which provides education, educational resources and as well as support to Agile and Scrum Practitioners. Learn more about Scrum Alliance.
How well is Product Owner certificate is recognized in the market?
With the advent of artificial intelligence and machine learning and growing consumerism, the product management has taken the center stage all over the world. Be it in big Fortune 500 companies or in Startups, the need for good product management is increasing year by year. Certified Scrum Product Owner role is a stepping stone to get started in Product Management. Listen to what one of the experience Product Managers who had attended our CSPO workshop has to say about the trends:
With many companies realizing the need of Product Owner for their product management, there is an increasing number of people getting certified as CSPO. The below chart shows how the number of people getting CSPO certificate is increasing year by year.
The Scrum Alliance is the oldest certification body in the Agile space and has been helping people learn and build great products since more than 2 decades. The Scrum Alliance was started by co-authors of Scrum - Jeff Sutherland and Ken Schwaber.
What is the eligibility to take A-CSPO Certification?
Participants should hold an active Certified Scrum Product Owner (CSPO) certification with Scrum Alliance
Participants should have at least 12 months of work experience specific to the role of Product Owner (within the past five years)
What is the validity of A-CSPO Certificate?
A-CSPO certification is valid for 2 years from the date of attaining the certificate. Scrum Alliance will send you a reminder once the validity of your certificate is about to expire. You need to renew your certification by paying 100$ and 20 SEUs. SEUs are Scrum Education Units and 1 hour of learning is equal to 1 SEU.
There are different ways and means of gaining SEUs.
Why A-CSPO
With the advent of artificial intelligence and machine learning, growing consumerism, the product management has received as much attention as never seen before. This Course is the starting point to understand the role of Product Managers and how Scrum makes Product Management more effective.
What are the job opportunities for a Product Owner?
With the advent of artificial intelligence and machine learning, growing consumerism, the product management has received as much attention as never seen before. Many countries like Chile, Ireland, Canada, Singapore who attract talent all over the world to start startups. Every state government in India has started an incubation centre to promote startups. Also Government initiatives like "Digital India" and "Make In India" require people with strong Product Management skills. These are very good indicators of growing need for product managers.
A report from McKinsey states that "The role of the product manager is expanding due to the growing importance of data in decision making, an increased customer and design focus, and the evolution of software-development methodologies"
If you search naukri for Product Owner or Product Manager job, you will find 8k plus results.
If you search LinkedIn
Product Management Trends
The Product Owner belongs to the Product Management profession. In fact, Product Owner is a role and most of the times their title will be Product Manager. Here are few trends from Product Management industry.
"There is a growing demand for product management talent because there are so many digital companies that have never existed before"
As per article on AC Lion , Industries adopting and leveraging new technologies such as Retail / Direct to Consumer, Automotive, Manufacturing, Financial Services and Healthcare, have created a demand for innovative product managers who bring both industry experience as well as an understanding of new technologies; how their products will best be marketed, sold and experienced by their end users and customers.
"The role of the product manager is expanding due to the growing importance of data in decision making, an increased customer and design focus, and the evolution of software-development methodologies."
As per report from McKinsey, over the next three to five years, we see the product-management role continuing to evolve toward a deeper focus on data (without losing empathy for users) and a greater influence on non product decisions. We anticipate that most modern product managers will spend at least 30 percent of their time on external activities like engaging with customers and the partner ecosystem. Such engagement will not be limited to consumer products—as the consumerization of IT continues, B2B product managers will directly connect with end users rather than extracting feedback through multiple layers of sales and intermediaries
"As many sectors get re-shaped by production innovation, India's IT services firms are coming to terms with the fact that "product" is becoming the imperative piece in the business agenda of their customers"
As per this article on Tech Republic, many IT services firms setting out to develop products and platforms are dealing with the shortage in their own ways. Some are actively making product company acquisitions. Others are creating separate entities to create products and build intellectual property — Infosys subsidiary EdgeVerve Systems, which is modelled after product startups and is employing dozens of product managers, is an example. India has only 20K Product Managers compared to 1.8 million in US. The numbers and skill levels of product managers are nowhere near even smaller countries like Russia and Israel. So there is huge demand for the skilled Product Managers.
"Global MNCs announcing investment plans in India, start-ups raising millions of dollars through angel investors, billion dollar valuations, a TV series on entrepreneurship — this is what today's Young India is talking about. After all these years, it seems, at least for now, Cricket and Bollywood have taken a backseat…"
This article on Careerizma states "Digital India" and "Make in India" are the new visions set by the biggest entrepreneur in a country of over a billion people. This vision along with regulations to ease business in India, has created a huge sea of opportunities for entrepreneurs to start their own gigs across various industries.
Our Agenda
Pre-workshop Preparation
We want you to make most of the time you spend with our trainers and other participants. Learning maximizes with the perspective of others. So we expect you to go through following crash courses on leanpitch.com, which will be accessible once you register.
Design Thinking
Value Proposition Design
Workshop
Learning During Workshop
This is an advanced Product Management workshop. The focus would be more on creating product strategy, market research, building product roadmaps and engaging stakeholders. Here is the agenda:
Product Owner Role
What is Product Management?

Product Owner skill assessment

Organizing Product Owner role
Product Strategy

Customer Segmentation

Blue Ocean Strategy

Blue Ocean Strategy Tools

Zerodha Case Study
Product Discovery

Discovery Overview

Designing Value Proposition

Addressing Cognitive Biases

Designing Discovery experiments
Product Roadmap

Outcome Driven PM

User Story Mapping

Business Value Estimation

Building and Communicating Product Roadmap

Prioritization Techniques
Product Development

Product Backlog Refinement

INVESTing Product Backlog

Managing Dependencies

Cruft and Technical Debt

Dealing with Technical Debt

Scaling Agility
Stakeholder Engagement

Building Stakeholder Persona

Crafting Stakeholder Engagement Strategy

Stakeholder Communication Strategy

Facilitative Listening Skills
Post-workshop Preparation
Post-workshop Learning
Our relationship doesn't end with the workshop. We have created more learning opportunities to learn:
Weekly Webinars called #ProductThinking Thursdays where practicing Product Managers share their experience. More details.
Monthly in-person meetups. More details here
Quarterly release of Product Manager speaks, where we interview practicing Product Managers.
Join Product Thinking Labs to practice Product Management.
Our Trainers
Satisha Venkataramaiah
Satisha is a passionate Product Owner who spends most of his time building Products for Startups and Product Managers. He shares his experience of working 4 days week in his CSM, CSPO and Product Management workshops.
FAQs
What are the workshop timings?
The workshop runs from 9am till 5:30pm. The training room will open at 8:30 am.
Will there be food?
Yes, ofcourse! We want you to be energetic and active during the workshop. We will provide 3 times tea and lunch. Breakfast is on your own.
Who issues the certificate?
The Advanced Certified Scrum Product Owner Certificate is issued by Scrum Alliance [https://www.scrumalliance.org/]
What should I bring?
We will provide everything. Just bring yourself!
Is there any dress code for the workshop?
You have to be in formal. Just kidding! Wear anything that makes you comfortable. There are no rules!
What is your refund policy?
We understand life falls in complex domain. So if you cancel your registration before 48 hours to workshop, we refund 80%. If you cancel within less than 48 hours, you get 60% refund.
Is there something I should read before the workshop?
Yes, we send pre-workshop reading material once you register. It might approximately take 2 hours to go through pre-workshop reading material.
Do you offer a guarantee?
We offer 100% happiness and learning guarantee not the certification guarantee, which depends on you. If you are not happy with the workshop or if you are not able to clear the A-CSPO test, we offer 100% refund unconditionally.
What if I have more questions?
Get in touch with Deepak @ 7358062677 / Austin @ 9945621122