Certified Scrum Professional - Scrum Master Training
Register Now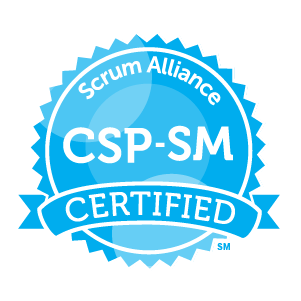 Certified Scrum Professional - Scrum Master
Certified Scrum Professional Scrum Master (CSP-SM) is an instructor-led 2 day online training program by top CSTs, 16 PDUs and SEUs, Certificate & 2 years Scrum Alliance membership.
Select Training
This Month
Next Month
Weekdays
Weekend
Morning
Afternoon
Clear Filter
Aw snap! We don't seem to have a schedule in your city at this time. Please write to info@leanpitch.com and our team will get something scheduled soon.
What is CSP-SM
Certified Scrum Professional Scrum Master (CSP-SM) is one of the top most certificates in the IT industry. It's a certificate program awarded to Advanced Certified Scrum Master from Scrum Alliance
Who provides CSP-SM certificate?
Certified Scrum Professional Scrum Master (CSP-SM) is a certification program offered by Scrum Alliance for aspiring Scrum Masters. Scrum Alliance is a non-profit organization based out of Colorado, the USA which provides education, educational resources and as well as support to Agile and Scrum Practitioners.
Who is Scrum Alliance®
Founded in 2001, Scrum Alliance is the largest, most established and influential professional membership and certification organization in the Agile community. Scrum Alliance has certified more than 750,000 practitioners worldwide. Scrum Alliance's vision is to "Transform the World of Work" with a mission to guide and inspire individuals, leaders, and organizations with practices, principles, and values that create workplaces that are joyful, prosperous, and sustainable.
Inspire: We inspire individuals, leaders, and organizations to adopt Agile mindsets. We support their transformations with training and shared stories of change and innovation in companies around the world.
Enable: We enable the work of our certificates and members through a global network of Agile peers, trainers, and coaches. We develop content and learning opportunities, including webinars, global and regional events, local user groups, and more.
Guide: We guide the application of Agile practices, principles, and values through our career-long certification path. Our community of coaches and trainers are focused on providing knowledge, skills, and experience that support Agile transformations for both individuals and organizations.


Experience what Scrum Alliance has to offer
Get certified: Pursue Scrum and Agile certifications on a progressive educational path, from Certified Scrum Master® (CSM®) to Scrum Alliance Certified Enterprise Coach℠ (CEC) and Certified Scrum Trainer® (CST®) qualifications.
Become a member: Join user groups, participate in forums, and gain access to member-only content and the only job board dedicated to connecting Scrum and Agile organizations with qualified, passionate Agile professionals. Learn more about our membership community.
Speak at a Gathering: Some of our larger Gatherings extend a call for presentations, while others are designed for invited speakers and Open Space. Visit our events page for detailed information about upcoming Gatherings.


More about Scrum Alliance
What is the recognition for CSM certificate in the Industry?
Certified Scrum Professional Scrum Master (CSP-SM) certification is one among the top 10 most valuable certification in a survey conducted by Global Knowledge. CSP-SM certification is the most preferred certificate in the industry among Agile and Scrum certificates.
Having a Certified Scrum Professional Scrum Master (CSP-SM) certification increases the chance of getting your resume shortlisted by 75%.
What is the eligibility to take CSP-SM Certification?
Participants should hold an active Advanced Certified Scrum Master (A-CSM) certification with Scrum Alliance.
Participants should have at least 24 months of work experience specific to the role of Scrum Master (within the past five years)
What is the validity of CSM-SM Certificate?
CSP-SM certification is valid for 2 years from the date of attaining the certificate. Scrum Alliance will send you a reminder once the validity of your certificate is about to expire. You need to renew your certification by paying 250$ and 40 SEUs. SEUs are Scrum Education Units and 1 hour of learning is equal to 1 SEU.
There are different ways and means of gaining SEUs.