Certified Scrum Developer with AWS Training
Register Now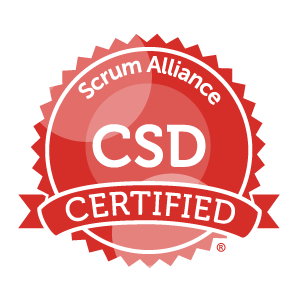 Certified Scrum Developer with AWS Training in Delhi
CSD training in Delhi is a Certified Scrum Developer course Accredited by Scrum Alliance. This course is a technical course targeted for programmers, testers, build and release engineers, system admins and everyone involved in the product development and delivery.
Participants attending this CSD training in Delhi course will be introduced to lot of Agile Engineering practices such as TDD, BDD, code refactoring, design principles, branching strategies, CI and CD. Participants will also be introduced to AWS and various AWS services will be used to setup the delivery cycle for the product development as part of hands-on activities.
Select Training
This Month
Next Month
Weekdays
Weekend
Morning
Afternoon
Clear Filter
Aw snap! We don't seem to have a schedule in your city at this time. Please write to info@leanpitch.com and our team will get something scheduled soon.
What is CSD with AWS
This course introduces participants to the Agile Engineering practices and teach them how to build working software in a Sprint using AWS Platform.
Who provides CSD certificate?
Certified Scrum Developer (CSD) is a certificate program offered by Scrum Alliance for Developers. Scrum Alliance is a non-profit organization based out of Colorado, the USA which provides education, educational resources and as well as support to Agile and Scrum Practitioners.
Who is Scrum Alliance®
Founded in 2001, Scrum Alliance is the largest, most established and influential professional membership and certification organization in the Agile community. Scrum Alliance has certified more than 750,000 practitioners worldwide. Scrum Alliance's vision is to "Transform the World of Work" with a mission to guide and inspire individuals, leaders, and organizations with practices, principles, and values that create workplaces that are joyful, prosperous, and sustainable.
Inspire: We inspire individuals, leaders, and organizations to adopt Agile mindsets. We support their transformations with training and shared stories of change and innovation in companies around the world.
Enable: We enable the work of our certificants and members through a global network of Agile peers, trainers, and coaches. We develop content and learning opportunities, including webinars, global and regional events, local user groups, and more.
Guide: We guide the application of Agile practices, principles, and values through our career-long certification path. Our community of coaches and trainers are focused on providing knowledge, skills, and experience that support Agile transformations for both individuals and organizations.
Experience what Scrum Alliance has to offer
Get certified: Pursue Scrum and Agile certifications on a progressive educational path, from Certified ScrumMaster® (CSM®) to Scrum Alliance Certified Enterprise Coach℠ (CEC) and Certified Scrum Trainer® (CST®) qualifications.
Become a member: Join user groups, participate in forums, and gain access to member-only content and the only job board dedicated to connecting Scrum and Agile organizations with qualified, passionate Agile professionals. Learn more about our membership community.
Speak at a Gathering: Some of our larger Gatherings extend a call for presentations, while others are designed for invited speakers and Open Space. Visit our events page for detailed information about upcoming Gatherings.
More about Scrum Alliance
What is the test structure of CSD test?
Trainer Assessment: After the workshop, the trainer will share an assessment for validating the learning. There will be 30 subjective questions with real life scenarios that Scrum Developer face. Consider this as your first Scrum Developer interview. The trainer will work with you to correct any gaps based on the assessment and enable the CSD certificate.
License Agreement: After Trainer enables your certificate, you need to accept the Scrum Alliance license agreement and download the certificate.
What is the eligibility to take CSD Certification?
This workshop is for anybody and everybody who is tasked with building software using Scrum or it doesn't even matter even if you don't use Scrum. You can still benefit a lot from this workshop to build great software. This is a software development workshop so anybody with titles:
Software engineer
Programmer
Technical Architect
Test Engineer
Build and Release Engineer
DevOps Engineer
If you are not a developer but want to learn, atleast you should be able to pair with developers and collaborate with them.
What is the validity of CSD Certificate?
CSD certification is valid for 2 years from the date of attaining the certificate. Scrum Alliance will send you a reminder once the validity of your certificate is about to expire. You need to renew your certification by paying 100$ and 24 SEUs. SEUs are Scrum Education Units and 1 hour of learning is equal to 1 SEU.
Earning SEUs:
To validate your participation and continued proficiency in the fundamental principles and practices of Scrum, you are required to earn Scrum Education Units® (SEUs) by completing an educational training or learning opportunity. It's easy to do and will help you stay relevant (and competitive) in the market. Note: All SEUs used for renewal must have been earned within the past two (2) years.
Learning is essential for your ongoing journey and SEUs are an easy way to accomplish this. Here's just a sampling of the wide variety of ways to earn SEUs:
Learn more about SEUs at Scrum Alliance.