ICAgile Certified Professional - Agile Testing Training
Register Now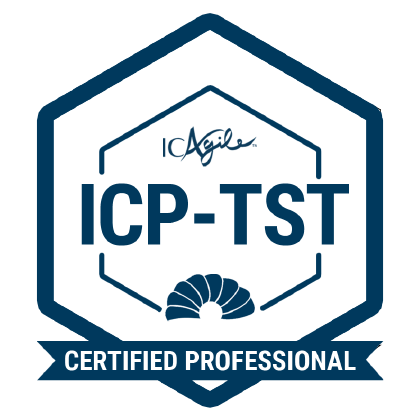 ICAgile Certified Professional - Agile Testing
ICAgile Certified Professional in Agile Testing (ICP-TST) workshop, Role Specific, no-PPT, 2 days classroom training by ICAgile Authorized Instructor, 16 PDUs & SEUs, Certificate and Life long membership.
Select Training
This Month
Next Month
Weekdays
Weekend
Morning
Afternoon
Clear Filter
Aw snap! We don't seem to have a schedule in your city at this time. Please write to info@leanpitch.com and our team will get something scheduled soon.
What is ICP-TST
Certified Agile Tester (ICP-TST) is one of the top most certificates for Test Engineers who work in Agile Teams in the IT industry. It's a certificate awarded to Test Engineers for their understanding in Agile Testing.
Who provides ICP-TST certificate?
ICAgile Certified Professional in Agile Testing (ICP-TST) is a certification program offered by International Consortium for Agile (ICAgile). International Consortium for Agile (ICAgile) is a community-driven organization that consists of pioneers, experts, and trusted advisors. ICAgile is not just another certification body.
They are changing the way people do agile by helping them become agile.From the beginning, ICAgile's mission has been to help organizations achieve sustainable agility by focusing on the transformation of people, not just processes. We do this by providing learning journeys that equip people with an Agile mindset as a foundation, then guide them along a path towards mastery in their chosen discipline.
What they believe
They believe that agile is not a process, methodology, or framework; it is a mindset that welcomes uncertainty, embraces challenges, empowers individuals, and views failure as a learning opportunity. Adopting an agile mindset unleashes the brilliance of people and teams, which enables rapid discovery and faster innovation. This is a game changer in today's competitive and uncertain world.
There are a number of reasons why an Agile mindset is paramount on your Agile journey. Here are our top three:
An Agile mindset helps you BE Agile while doing Agile. Well-known frameworks provide great tools and techniques to help teams execute in an agile manner. However, an Agile mindset is the key to BEING agile, resulting in sustainable agility manifested through people, not processes.
An Agile mindset allows you to tailor methodologies for your reality. Agile processes will and should continue to evolve as organizations learn more and build agile capability. An Agile mindset gives you the flexibility to blend agile methods and even invent new frameworks to maximize collaboration and innovation.
An Agile mindset helps bring out the best in your teams and organizations. Having an agile mindset is synonymous with a culture of continuous learning. Learning agility helps people reach their potential and is a critical ingredient for business agility.
What they do
They are a certification and accreditation body, not a training company. They help organizations and training providers design learning experiences that cultivate an agile mindset and enable sustainable organizational agility. They do this by providing world-class learning tracks to guide organizations in the development of their curriculum. Their approach is not tied to any specific Agile methodology, thus giving people the flexibility to blend agile flavors and practices in a way that makes sense for their reality.
In pursuit of our mission, ICAgile works with course providers to accredit new or existing courses against proven learning objectives. In turn, these courses can be offered to agile individuals and organizations for professional-level certifications.
In addition to accreditation and professional-level certifications, ICAgile offers a competency-based expert certification program, which is unique in the industry. The ICAgile Certified Expert (ICE) certifications are extremely prestigious and are only awarded to individuals who demonstrate competence in a given track via a rigorous review process in front of a panel of industry-recognized experts.
How are ICAgile Learning outcomes different?
The learning outcomes in their tracks are methodology-neutral. The roadmap's design intentionally focuses on starting with an agile mindset opposed to on any particular methodology or framework. This empowers every organization to leverage the roadmap and customize its agile processes and practices to meet organizational realities as they evolve. In addition, the learning outcomes are regularly reviewed and modified based on feedback from students, trainers, and the agile community, to ensure cutting-edge skills and knowledge are taught.
ICAgile Certified Agile Tester (ICP-TST) is one among the top recognized Agile Tester certifications. The course curriculum is universally recognized and approved. It is the most preferred certificate in the industry in terms of Agile Testing. Having Certified Agile Tester certification increases the chances of you landing on an Agile Tester job.
ICAgile does not have exams as such but they rely on the trainers for validating the participant's learning. Leanpitch have subjective assessments & assignments to validate participant's learning.
What is the eligibility to take ICP-TST Certification?
There is no requirement on years of experience to attend the workshop. Anyone who is willing to learn Agile Testing concepts can attend the workshop.
What is the validity of ICP-TST Certificate?
ICP-TST certification is valid for life from the date of attaining the certificate. ICAgile certificates have life long validity and never have to be renewed again.