ICAgile Certified Professional - Agile Coaching Training
Register Now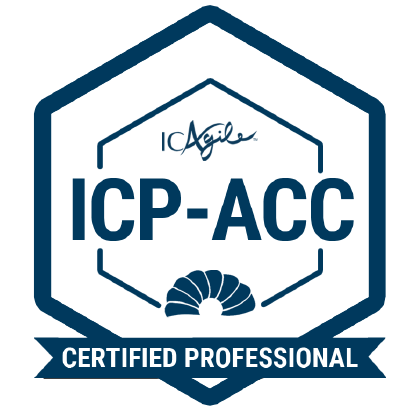 ICAgile Certified Professional - Agile Coaching Training in London
Select Training
This Month
Next Month
Weekdays
Weekend
Morning
Afternoon
Clear Filter
Training Details
Date and Time
05th Aug - 07th Aug, 2022
02:00 PM - 10:00 PM IST
Trainer
Vivek
Type
Online
Schedule
Daily
Date and Time
26th Aug - 28th Aug, 2022
02:00 PM - 10:00 PM IST
Trainer
Vivek
Type
Online
Schedule
Daily
Date and Time
16th Sep - 18th Sep, 2022
02:00 PM - 10:00 PM IST
Trainer
Vivek
Type
Online
Schedule
Daily
What is ICP-ACC
Certified Agile Coach (ICP-ACC) is one of the top most certificate for Agile Coaches in the IT industry. Its a certificate awarded to Agile coaches for their understanding in Agile philosophy and Coaching.
Who provides ICP-ACC certificate?
ICAgile Certified Professional in Agile Coaching (ICP-ACC) is a certification program offered by International Consortium for Agile (ICAgile). International Consortium for Agile (ICAgile) is a community-driven organization that consists of pioneers, experts, and trusted advisors. ICAgile is not just another certification body. Learn more about ICAgile here.
ICAgile Certified Agile Coach (ICPACC) is one among the top recognized Agile Coach certifications. The course curriculum is designed by Lyssa Adkins who is the author of the book, Coaching Agile Teams. It is the most preferred certificate in the industry in terms of Agile Coaching. Having Certified Agile Coach certification increases the chances of you landing on an Agile Coach job.
ICAgile does not have exams as such but they rely on the trainers for validating the participant's learning. Leanpitch have subjective assessments and real time coaching assignments to validate participant's learning.
What is the eligibility to take ICP-ACC Certification?
There is no requirement on years of experience to attend the workshop. However, generally the industry expects Agile Coaches to have atleast 10 years of experience in the industry to hire as an Agile Coach.
What is the validity of ICP-ACC Certificate?
ICPACC certification is valid for life from the date of attaining the certificate. ICAgile certificates have life long validity and never have to be renewed again.
Why ICP-ACC
Agile Coach is a facilitator and a change agent. They have coaching as their profession. In South Africa, Agile Coach is on the top 3 most paid professions. Getting an ICP-ACC certificate can increase the changes your job as Agile Coach by 75%.
As per Business Insider, Agile Coach is one among the top 25 jobs in the industry. Agile Coaching jobs are in the top most demanding and as well as paying jobs in the IT industry. Agile Coach is on the top executives job in South Africa and can get you an income of 1.2 Million PA. An Agile Coach is a change agent and is expected to facilitate the needed change in the Organization. Certified Agile Coach training from Leanpitch helps you to learn how can an Agile Coach facilitate the much-needed change in the Organization and thereby helping them to achieve their vision.

Agile Coach is the most trending job in the industry as more and more Organizations understands the need for Coaching teams and individuals. By attending Leanpitch ICP-ACC workshop and with post-workshop support that Leanpitch provides, it is easier to get the job as an Agile Coach in the industry.