Advanced Certified Scrum Master Training
Date
25th Jun - 26th Jun, 2022
Register Now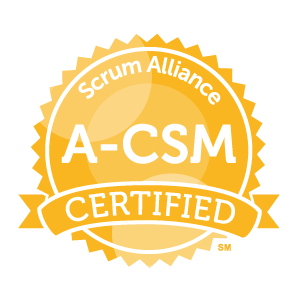 Advanced Certified Scrum Master
Advanced Certified Scrum Master (A-CSM) from Scrum Alliance is an instructor-led 2 day online training program for practicing Scrum Masters. This course helps the Scrum Masters learn advanced skills to become not just good but great Scrum Masters. They learn to facilitate better, engage better, and even Scale Scrum beyond a single team.
2-Day online training by Practicing Scrum Trainers (CST)
The best creative education provider
Guaranteed WoW experiences
A thriving community of 46k members to support continuous learning
Auto-renewal of your CSM certificate
Life-long access to digital material and mobile app
Select Training
Next Month
Weekdays
Weekend
Morning
Afternoon
Clear Filter
Training Details
Date and Time
25th Jun - 26th Jun, 2022
09:00 AM - 06:00 PM IST
Trainer
Suresh
Type
Online
Schedule
Daily
What is A-CSM
Advanced Certified Scrum Master (A-CSM) is one of the top most certificates in the IT industry. It's a certificate program awarded to Certified Scrum Master from Scrum Alliance after learning techniques and skills that go beyond the basics and mechanics of Scrum, expanding into interaction, facilitation, coaching, and team dynamics..
Who provides A-CSM certificate?
Advanced Certified Scrum Master (A-CSM) is a certification program offered by Scrum Alliance for aspiring Scrum Masters. Scrum Alliance is a non-profit organization based out of Colorado, the USA which provides education, educational resources and as well as support to Agile and Scrum Practitioners. Learn more about Scrum Alliance here.
What is the recognition for A-CSM certificate in the Industry?
Advanced Certified Scrum Master (A-CSM) certification is still one among the recognized certification next to CSM in the industry. Certified Scrum Master is one among the top 15 most valuable certification in a survey conducted by Global Knowledge in early 2020. Having Advanced Scrum Master (A-CSM) certification increases the chances of getting your resume shortlisted by another 25%.
As per PayScale, an experienced Scrum Master earns 45.6% more salary than an entry level Scrum Master. If you have already 12 months of experience as a Scrum Master, having an Advanced Scrum Master (A-CSM) certification increases your chance of getting more salary. Average salary of a Scrum Master in India is 14L INR and in US, it is $102K.
What is the test structure of A-CSM?
Scrum Alliance approves the trainer to validate the learnings of the participant. After successfully completing the 16-hours training, you will need to take an assessment provided by the trainer. The assessment will be focused on the learnings from the workshop and the coaching skills. Once after you clear the assessment, your certification will be enabled.
What is the eligibility to take A-CSM Certification?
Participants should hold an active Certified Scrum Master (CSM) certification with Scrum Alliance
Participants should have at least 12 months of work experience specific to the role of Scrum Master within the past five years.
Participants can take up the A-CSM course right after completing the CSM certification course. But, right after completing the CSM course, the participant must update the profile with proof of serving 12 months of experience as Scrum Master before receiving the A-CSM certification.
What is the validity of A-CSM Certificate?
A-CSM certification is valid for 2 years from the date of attaining the certificate. Scrum Alliance will send you a reminder once the validity of your certificate is about to expire. You need to renew your certification by paying 175$ and 30 SEUs. SEUs are Scrum Education Units and 1 hour of learning is equal to 1 SEU.
There are different ways and means of gaining SEUs.